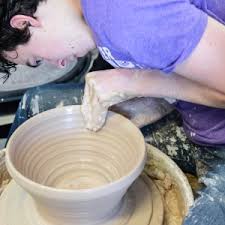 Cameron chaffee
kimball clay studio technician
Cameron has been making ceramics a part of his daily life for over 4 years. Mostly preferring to make functional work, he can be found creating cups and bowls in his free time, often contrasting deliberately simple shapes and carvings with more random and colorful glazes.
His main focus at the Kimball is on teaching kids and family classes. Cameron also sells his work at local markets in Park City and the surrounding areas.
Cameron Chaffee.
Simple. Clean. Functional.